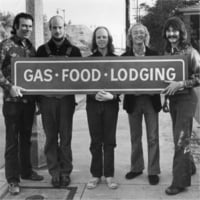 We just found out that a 22 track album called "On The Great Highway" by a band called "Gas Food & Lodging" has been available for download from CD Baby since 2017.
https://cdbaby.name/g/a/gasfoodlodging.jpg
Drummer for that band was Kevin Kelley (spelled Kelly). He's center on the image above.
I had never heard of that band and Kelley's participation before, so this is a nice find for all Byrds completists.
We don't know if these tracks were ever released on vinyl or CD before, so if you have more news, please let us know.
More info on the band here:
http://www.billplummerbass.com/gas-food-lodging-band/